Money by Afterpay, built in under 12 months in the cloud using Westpac BaaS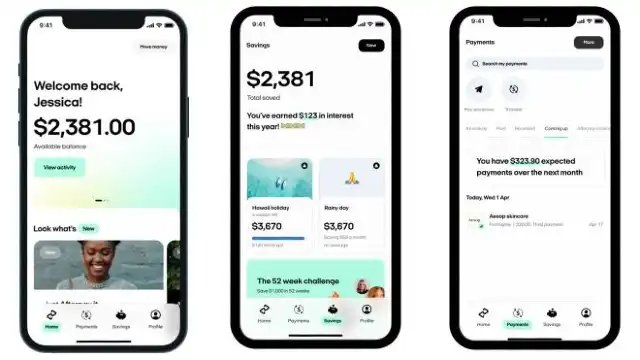 Who is the client?
Afterpay is one of the largest financial disruption success stories in history. The company introduced By Now Pay Later (BNPL) which allowed customers to receive products immediately and pay for their purchases over four interest-free instalments. As of August 2021, Afterpay had more than 16.2 million active customers globally.
What was their business challenge?
After more than 2,100 hours of conversations, content and insights gathered from younger customers, Afterpay's research showed that 74% of Gen Z believed they'd be better at saving if they had a tangible end goal and 34% said their transaction account would be improved with personalised features.
In Oct 2020, Afterpay announced their intention to address this by offering a new money management app, Money by Afterpay, with specific banking services provided by Westpac. The app was to be focused on budgeting and saving to help younger Australians gain financial security.
The goal of the Money by Afterpay team was to deliver everyday banking services, along with to Afterpay's BNPL products, to their 3m+ customer base in Australia, in a highly rapid timeframe.
To deliver these banking services this, Afterpay chose to leverage the Westpac Bank as a Service (BaaS) offering, built on the 10x core banking platform. Partnering with the Westpac BaaS meant that Afterpay needed to be match the regulation set out by Westpac. These regulations were viewed as not only the supporting the banking services but were seen as a stepping stone for the future needs of Afterpay's BNPL product.
What did we deliver?
In less than a year, the combined Digizoo & Afterpay team delivered a fully compliant banking solution and innovative mobile app.
In early 2021, the Digizoo team was brought in as a key partner to work alongside the newly formed Money by Afterpay group under the supervision of Lee Hatten (Executive VP) and Michael Morris (VP). Digizoo was selected thanks to the expertise we brought in
Technical design and delivery
Integration with Westpac 10x banking platform
Front-end design and build
User experience and accessibility frameworks
Platform engineering and security
Application engineering and CI/CD
Together, the partnership worked behind the scenes to:
Uplift Afterpay's internal processes and systems to meet Westpac regulations. This includes delivering a set of services that were KYC regulated, met the PII standards from the OAIC, and a subset of CPS 234 and 235 from APRA
Design and implement a set of everyday banking services, like accounts, transactions, and standard payments.
Integrate Afterpay's core BNPL system with the everyday banking services to seamlessly onboard existing customers and deliver new sets of products such as "Afterpay Retro", described in more detail below.
The app itself offered everyday banking and modern savings features, such as the ability to:
Manage one daily account with a physical debit card and digital wallet.
Easily make and receive real-time payments with no fees.
Set up 15 tangible savings goals so that they can visualise their savings progress.
Manually, or automatically, use Roundups and Multipliers to add micro amounts to everyday transactions, which then are transferred into savings.
The Afterpay Money app also offered additional tools and features to make it more engaging and help customers make responsible financial decisions, plus three "Superpowers":
Afterpay Retro: users can make retrospective decision to pay in four instalments for something that they previously purchased directly. This 'world first' feature could be used for any purchases via the Money app, even if the merchant did not usually accept Afterpay.
Pulse: users could earn reward points for making good money choices, such as sustainable spending and setting up savings goals.
Afterpay Orders: users could track their Afterpay orders, see how much is available, how much is owing, and when everything's due.
What were the business outcomes?
After the launch of Money by Afterpay in Nov 2021, Afterpay's 3.6 million customers had access to a banking application that could either function alongside the main app or as a stand-alone app that provide a new experience plus core Afterpay BNPL capabilities.
At launch, Afterpay Co-CEOs and Co-Founders Anthony Eisen and Nick Molnar said:
"Bringing Money by Afterpay to life in just 12 short months reflects the incredible passion our team has for our customers – and for the relentless drive to challenge the status quo in order to deliver a better offering."
Having an app that looked and felt like a bank also helped closed the gap between merchants and banks, which previously were connected via payment services only. Now merchants were able to see their customers use the Money app and/or debit cards for enhanced journeys.
While Money by Afterpay was a successful story, Block's purchase of Afterpay in Jan 2022 gave rise to commercial and legal conflicts of interest, particularly as Block planned to introduce its own Cash App. As a result, Money by Afterpay closed in Oct 2022 and the Money team moved across to Block.
Although it's unfortunate that Money by Afterpay program of work ended, the strong relationship between Digizoo and Afterpay continued, as seen in the work we did later for Block.
Related success stories